Hints and Tips

At Ferntree Print we pride ourselves at providing a friendly and helpful service so we're happy to help you with any questions you may have in order to get the most out of your printed work. Whether you are doing a long-run offset print job or a short-run digital print, the information on this page will help you set up your artwork ready for print.
Print-ready artwork checklist

In order to help us print your artwork quickly and at the highest quality, please make sure that:
All fonts are embedded in your file
Images are in CMYK colour mode and not RGB
Images are high quality ( 300dpi )
Outline your fonts
Allow 2mm bleed around your artwork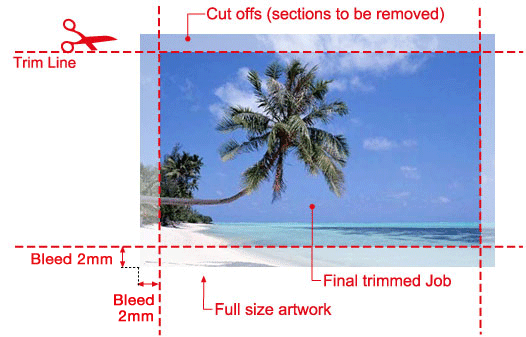 File Formats

We prefer artwork to be in PDF format, if your application does not output a PDF and you are on a Windows machine please click here to download and install PDF Creator. This will create a new printer driver on your computer, when you print to this PDF Creator printer you have the ability to save a PDF version of your document to disk.
If you are still not able to output to PDF then don't worry, we can do the conversion for you for a small fee. Here are some of the formats that we can convert:
Microsoft Office files (Word, Excel & Powerpoint)
Adobe InDesign, Photoshop and Illustrator (CS5 editions or below)
QuarkXPress (version 6.5 and below)
Most image files, including TIFF, EPS, BMP, JPEG and RAW images
If your file format is not listed above please
contact us
and we will help you come up with a solution.
Microsoft Word documents

Please ensure that your Microsoft Word documents is set up using British "A" sizes, and not the "US Letter" American default size. This can be changes by selecting File->Page Setup and choosing the appropriate A size.
Paper Size Guide

Please use the following diagram when setting up your artwork page size.